Real Results
Add it to your routine and here's what you can expect:
Soft and supple skin after first use.
Natural AHA's in Goat Milk and Turmeric brighten skin with constant use.
Effective skincare backed by natural ingredients and real science.
100% Plant & Mineral-Derived

Cruelty Free
80% Vegan

Traceable Ingredients

Allergy Friendly
Brightens Skin: Goat Milk, Honey & Turmeric Cleansing Bar
The rich formula of an acne soap bar has Goat Milk and Honey that is used to double cleanse without stripping your skin of its natural oil. The special edition of Turmeric in the acne bar soap brightens your complexion and reduces the daily buildup of skin bacteria and sebum. Ideal Cleanser for Dry to Combination Skin Type. Unlike soap, which has a pH of 9 or above, our turmeric cleansing bar has an ideal pH of 6.5, turmeric soap for acne ensures sufficient cleansing without drying or stripping the skin of its protective barrier and is the best acne soap bar for face. Acne soap benefits include the following one: -Acts as a Cleanser to Remove Makeup -For Dry to Combination Skin -Honey & Turmeric Goat Milk Nourishes the Skin -Turmeric soap Brightens Skin -Reduces Redness from Blemishes -Clearing Bacteria Buildup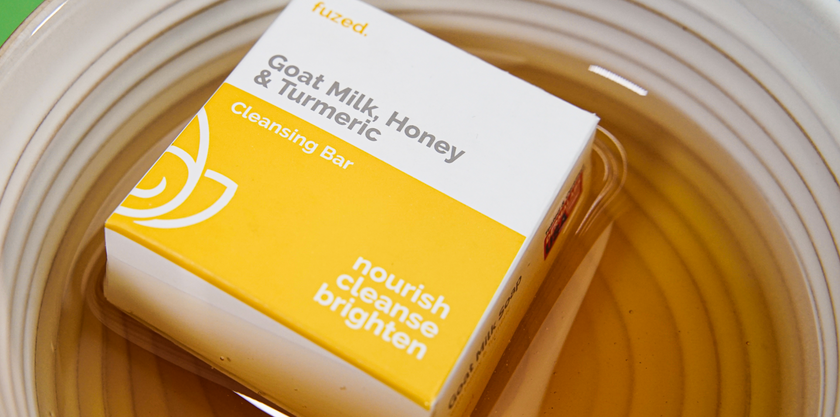 How To Use It
STEP 1: CLEANSE
Clean brighten & nourish
How to Apply
Wet Bar and lather until creamy. With your hands, gently massage over face, neck, and chest. Rinse with warm water and pat dry.
When to Apply
Use every day as a first step of cleansing in your skincare routine. Avoid direct contact with eyes. Note: Store your Bar in a dish where it is slightly elevated and excess water can drain off, so the bar can air-dry.
What Customers Are Saying