Real Results in 2 weeks of use:
Visible results in reducing active acne.
Light-weight, water-based, and fragrance-free formula for all skin types.
Effective skincare backed by natural ingredients and real science.
100% Plant & Mineral-Derived

Cruelty Free
80% Vegan

Traceable Ingredients

Allergy Friendly
Perfect Balance: Superfruit Moisturiser with Vitamin C*
80% Water based moisturiser, the best moisturiser for all skin types in Pakistan, absorbs rapidly in the skin and makes it the best moisturizer for oily skin types. It contains 5% Vitamin C from Kiwi's, 0.1% Retinyl Palmitate & Vitamin E infused with Iris Florentina Root Extract to reduce sebum production and breakouts in the skin. Our Superfruit moisturiser works well to defend the skin against free radicals. In contrast, Vitamin C fights these free radicals that protect Retinyl Palmitate from oxidation as the moisturizer penetrates the skin, increasing their benefits. Also, Retinyl Palmitate is a retinoid of the mildest forms and works slowly and gently compared to other Retinoids like Retinol, Retinal, and Retinyl Esters. This formulation is developed specifically for Pakistani Skin types.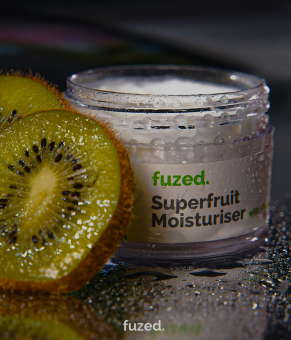 How To Use It
STEP 4: MOITURIZE
Intense skin hydration
How to Apply
Apply on your cheeks, forehead, chin, and neck. Rub till it absorbs completely. If you use makeup, mix your concealer or foundation in our moisturiser and you can apply it as a tinted moisturiser.
When to Apply
Can be used in both AM & PM routines.
AM Routine: Apply right after washing your face, it is recommended to use it while your skin is damp.
PM Routine: Apply right after skin cleansing, if you are using a serum, use the moisturiser after the application of the serum.
What Customers Are Saying