Results to Expect
Adding it to your routine and here's what you can expect:
No white cast and no grease leaving a matte finish.
Aloe Vera healed previous sun damage and UV filters block UV radiation from the sun.
Effective skincare backed by natural ingredients and real science.
100% Plant & Mineral-Derived

Cruelty Free
80% Vegan

Traceable Ingredients

Allergy Friendly
Protect: Screen UV60 with Aloe Vera
Is this moisturiser? No, it's fuzed sunscreen! Formulated with Aloe Arborescens Leaf Extract, as Fuzed philosophy, the aloe vera sunblock cream for oily skin takes the best nature and combines it with the best active ingredients. The daily soothing sunblock cream is so lightweight that it feels like a moisturizer and does not leave any white cast. Size: 1.69 fl.oz / 50ml WHY IT'S SPECIAL: Aloe Arborescens Leaf Extract Aloe Arborescens Leaf Extract is the key ingredient in Screen UV 60 Aloe sunblock that soothes and moisturizes skin at the same time and proves to be the best sunblock cream for dry skin. Lightweight & Moisturising Texture The texture of sunscreen with aloe vera is similar to a light moisturizer, which does not strip the skin of its natural moisture, unlike another sunblock with aloe vera on the market. The hydrating sunblock cream for face is absorbed into the skin fast without feeling greasy or leaving a white cast. This aloe vera sunblock can be worn all year long as it feels light during hot/humid summer and moisturizes in the dry season. Compact Size Designed to be travel-friendly, the aloe vera sunscreen for face with a transparent tube so you can order ahead without letting it finish. Aloe vera sunscreen can easily carry Screen UV 60 anywhere and layer on sun protection anytime.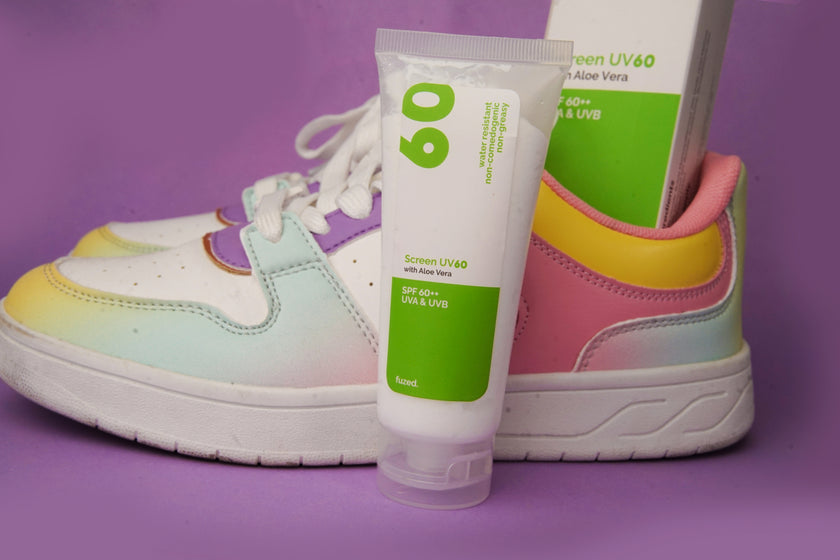 How To Use It
STEP 5: PROTECT
Blocks UV rays.
How to Apply
Use generously on face and other parts of the body exposed to the skin like applying a moisturiser.
When to Apply
Apply 30 minutes before being exposed to the sun. Reapply after 2 ours if you are exposed to the sun for prolonged ours or after exposure to sweat or water.
What Customers Are Saying